Jobs for Jocks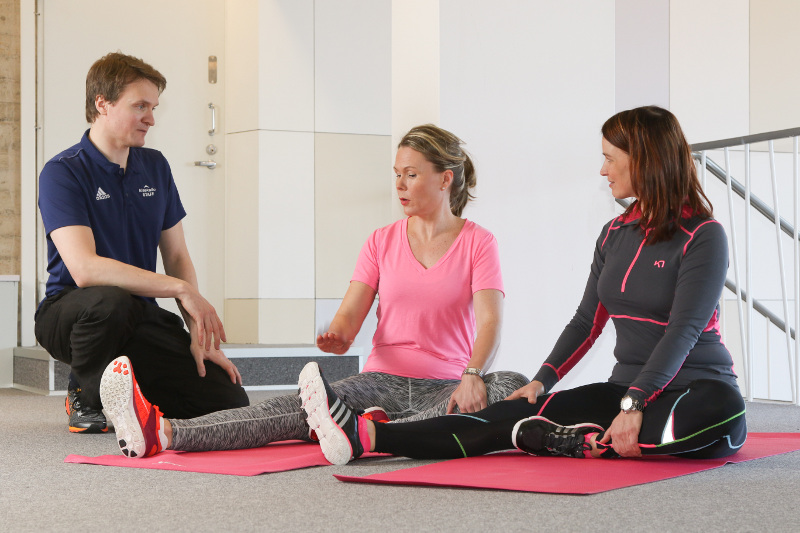 If you have a fit body there are many careers that you can do.
Fitness model. You can become a fitness model or model in general. This may be competitive but is a good way to keep you in shape.
Actor: You could be an actor on TV and in movies. Additional training might be required. Soaps might be more flexible for example the Australian soap Neighbours has hired reality TV stars and marathon runners. This would be even more competitive than a model career.
Security guard: a less competitive career would be working as a security guard. If this interests you it may be a good idea to target venues that involve lots of walking so you can get a workout at work.
Personal trainer. Again this pretty much requires you to stay in shape. They say you should never trust a skinny baker; the same could be true for personal trainers with bodies that are not fit. Gyms sometimes have their own trainers or you can run an independent business.
Fitness instructor. You can host work out sessions for groups of people. Running bootcamps is also a possibility once you are more established in the fitness space. You can also do this in combination with the above to maximize your revenue.
Remote consultant. You can now do consulting over the internet on fitness or nutrition.
Athlete. Yes, this is an obvious choice but you have to take best of the best to represent your city or country. Unlike other careers this option is only available for a number of years but there are options for after this.
Jobs for after your athletic career
Product endorsements. Former athletes regularly appear in advertisements for companies or organizations.
Sports coach. Nobody knows your sport better than you.
Author a book, you could tour the country selling books if you're a famous national athlete.
Reality TV, sports commentary and game shows. Some athletes transition to TV afterwards. You could also be a radio host.
Sports journalism is an option but you could be best served with a journalism degree.
Become a MC for corporate events. This could be an option if you are willing to maintain a high public profile in other ways.
If you didn't spend all your income as a top athlete you could invest in a business. You could aim to save a certain portion for this purpose if you're just starting out or not close to retirement. If it's too late for you to do this you could alternatively raise money using another strategy and invest some of the income.
Depending on your circumstances you could live off your investments and retire. Most people will say you shouldn't put your eggs in one basket otherwise it may not work out.
You could also invest in a qualification if you don't already have one and have a career in sports medicine or any area that you think would be a good fit for you.
Other options if you didn't go pro
Many athletes have confidence and discipline. This can also help a person gain employment in less physical industries.
Salesperson: People with confidence can be good salespeople. Some people would also argue that looking your best also helps.
Managers: People that have both discipline and experience with working in a team might be suitable managers because they can work in a group to achieve goals.
Finally if you want to give back you may want to be involved with a charity. Appearing in advertisements or hosting fund raisers for them is a good way to do this.
Where next?
If you want to do strength training Click here for the best dumbells for jocks.
If you want to get the body of a jock click here for tips on how to lose weight.